Kiva Auditorium | Albuquerque, New Mexico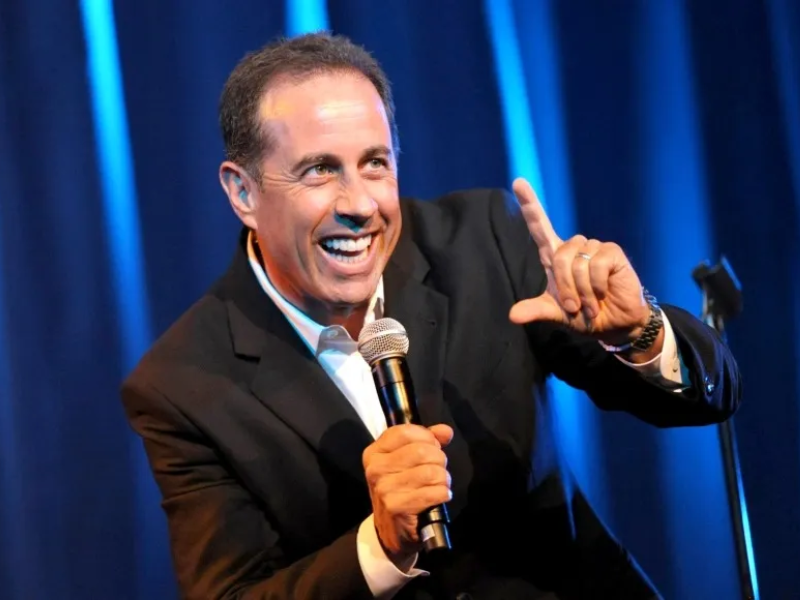 Comedy king Jerry Seinfeld—yes, you read that right—makes his long-awaited return to the Kiva Auditorium's stage on Friday, February 16, for his new North American standup tour! A traditional comedian, our visiting act is widely praised for his subtle but clever approach to observational humor that influenced generations of aspiring standup artists who came after him. Chances are you know him best as the lead star of the iconic '90s sitcom "Seinfeld," wherein he garnered the prestigious Primetime Emmy Award for Outstanding Comedy Series. But beyond this crowning achievement, Jerry has also found great success in other entertainment projects such as the Grammy-nominated standup special "23 Hours to Kill" and the popular web series "Comedians in Cars Getting Coffee." Make sure you don't miss him here in Albuquerque, New Mexico's premier cultural hub, which features high-end seats, acoustics, and amenities. Buy your tickets now for Jerry Seinfeld LIVE by hitting the blue button!
As long as you're not named Newman, you better be tripping over yourself to watch one of comedy's most influential living legends at the Kiva Auditorium! The one, the only Jerry Seinfeld embarks on his annual North American standup tour, with fourteen dates slated so far, including this stop at New Mexico's foremost convention center on February 16!
"You know it's been a good comedy show when your face hurts from laughing the whole time. Every bit was great, and the time flew by! Totally worth the money because it was a fantastic experience."
Jerry Seinfeld is your best bet on family-friendly live entertainment! This standup superstar's style never relies on the shock, sex, and politics that modern performers tend to employ in their acts. Instead, he has been honing his joke-driven observational humor to a straight edge since he first stepped up to the stage in 1976—cleverly subtle and relatable. Beyond the laughter, audiences will appreciate a new perspective on the things we take for granted.
All of Jerry Seinfeld's original audiences can attest to his enduring legacy. Co-creator and star of the hit '90s sitcom "Seinfeld," our main act established rules and conventions in the genre that still echo to the present. So much so that you can say, "Seinfeld did it first," every time you see a trope play out and have a 77% chance of being right (Statistic unverified). For his work in this career capstone, Jerry Seinfeld received a highly coveted Primetime Emmy Award for Outstanding Comedy Series, a Golden Globe Award, and two Screen Actors Guild Awards. The show ended after an acclaimed 10-year run, releasing the actor out into the wild where he launched several successful projects over the years, including the "Comedians in Cars Getting Coffee" web series and the Grammy-nominated "23 Hours to Kill" special.
As for our venue, venture into the cultural center of Albuquerque, New Mexico, at the elegant Kiva Auditorium. Jerry Seinfeld has graced this stage in previous tours, and now, he makes a spectacular return on Friday, February 16. The viewing area can comfortably accommodate 2,300 patrons, presenting them with fantastic sightlines and pitch-perfect acoustics to elevate the standup experience to world-class levels. Seats are limited - book your reservations soon!